2022 — 2018
Der Bien und der Garten (2021)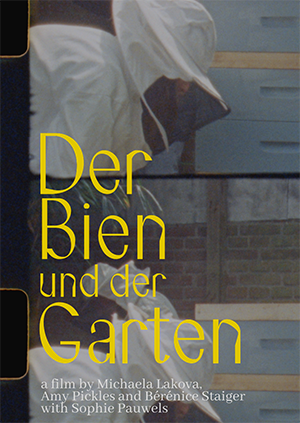 digital and analogue film, duration: 11 min, German w/t English subtitles
a film by Amy Pickles, Michaela Lakova & Bérénice Staiger

The film "Der Bien und der Garten" follows the artist and beekeeper Bérénice Staiger, whose art and apiarist practices intertwine systems of care and attention. The camera oscillates between the choreographies of Bérénice, and fellow beekeeper Sophie Pauwels – observing, inspecting, maintaining, harvesting, almost as a self-reflection, these gestures also mimicking the actions of the bees in the hive.
excerpt at →
video exerpt
-------------
*​​ Screening at Online TENT Cinema, Rotterdam
*​​ Screening at Sofia Art Week#4, Future Oracles, Geothe institut Sofia, Bulgaria
* Screening at Groot Atelier Rotterdam Weekend, Rotterdam, The Netherlands
Earth Rebels (2021)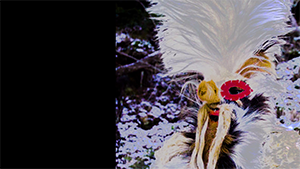 digital video, duration: 7 min
credits:
film: Michaela Lakova & Franky Rivers
performance: Bozhidar Zhisov & Voin de Voin
visual materials provided by: Ivo Dancev, Canon Bulgaria and Martin Grahovski
edit: Michaela Lakova
music: Kathryn Mitchell "Podzim Sum Malo Legnala" & Tzotzil Song For Saint Peter
"One thing only speaks our word,
one thing only looks at our gaze,
the constitutional recognition of indigenous rights and culture,
a place worthy of the color of the earth,
it is time for this country to stop being a shame."

— III National Indigenous Congress, March 11, 2001, Mexico City

"Earth Rebels" is an anthropological and artistic research into the indigenous Tzotzil carnival in San Juan Chamula, Chiapas, Mexico combined with the sacred rituals of kukeri in Shiroka Laka, Rhodope mountains, Bulgaria. What might be the commonalities between those two cultures dating back before the Spanish and Ottoman invasions? The artist takes her own journey into the depths of the spiritual self with its complex cultural and historical preconditions in order to open a dialogue about our collective memory.
-------------
*​​ Screening at Digital Art festival, Sofia, Bulgaria
* Installation,
The pric/ze is right – Next Balkan: Bulgarian Contemporary Art
, Ostavinska galerija, Belgrade, Serbia
* Earth Rebels is supported by the
National Cultural Fund
, Bulgaria
Voicemail (2020-ongoing)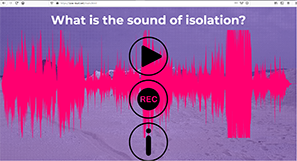 interactive website
→ voicemail
credits:
developed by: Michaela Lakova & Iliyana Kancheva
web development: Thorben Jäger
​As the coronavirus outbreak continues to spread across the globe, many people are asked to socially isolate themselves from others. In April 2020, half of the World's population was under a lockdown due to COVID-19. The time had stopped, questions such as: What date is it?; What day is it?; What time is it?, are not relevant anymore. In the time of uncertainty and many unknowns, we as artists decided to analyze the question:
What is the sound of isolation? Voicemail is an interactive online project aiming to reflect on what it means to be socially isolated, thus contributing to the formation of a broader and collective audio picture of the #Stayhome phenomenon.
-------------
*​​ Presented at RESET art residency, organised by
kontempora
, Kyustendil, Bulgaria
*​​ Presented at "Click, scroll, like, share... scroll again" at Aether Art Space, Sofia, Bulgaria
* Supported by CBK (PPR grant) and Sofia Municipality,
#Solidarity_in_Culture
Cold Storage (Revisited)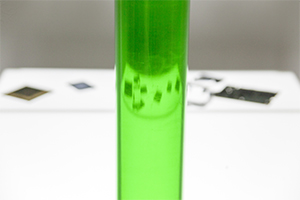 installation /// prints, glass cubes, light objects, filters, circuit boards
Enlarged photographs of common data storage devices are placed at the exhibition space along with four glass cubes, which create an optical illusion of disappearance of the circuit boards depicted in the photographs. While stored digital data might seem ephemeral or intangible, it does in fact have a physical presence in the real world. Cold Storage investigates the architectural dimensions of our storage devices and how they are translated into the physical world. The work proposes a poetic overview of the material quality of memory asking what is the future of digital storage: "a glass cold memory which lasts forever" or imperfect storage technology that can decay?
-------------
* Cold Storage (Revisited), installation part of Digital Aesthetics, group exhibition curated by Irina Batkova, Plus 359 Gallery, Sofia, bg
* Cold Storage installation is supported by
CBK (Centre for Visual Arts Rotterdam)
* What remains – Strategies of saving and deleting, group show, esc medien kunst labor
part of
Steirischerherbst
, Graz, at
Tentative Memory (2019)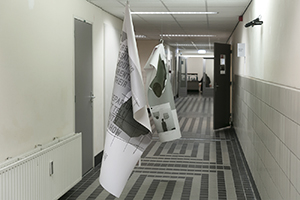 bisonyl prints 84 x 119 cm & metal hooks
Tentative Memory contains collages of texts and images part of Michaela's ongoing research into elusive notion of memory. The asbestos masks depicted on the prints are found objects used for a performance/ video work Past-Present: Utopian dream for a nu(un)clear future, a solo show in Æther (2018) and the text is by Deepak Unnikrishnan
-------------
* installation, Borgerstraat Open Studios, Rotterdam, nl
Article17 (2018-оngoing)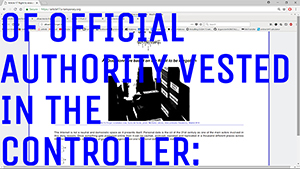 web page in three parts (html, javascript, css, sound on!)
credits:
web development: Michaela Lakova
sound: Igloo, Aesthete, album: Obfuscation
paper spreads: Joana Chicau


Article17 is an online poem based on Michaela's ongoing research into the Right to erasure (also known as the Right to be forgotten) – a legislation allowing individuals to request search engines to delist their personal data. Lakova uses the official language of Article 17, part of General Data Protection Regulation (GDPR)accepted in May 2018 which introduces a new set of rules and regulations which aim to control how private companies collect, store, and use personal data. However this legislation remains difficult to comprehend outside of the world of law enforcement. x-temporary.org
Lakova is interested in 'translating' this rather complex text and set of definitions which will ultimately enable the viewer to experience a new form of 'uneasy' reading. Evoking, over-sized text where words are passing sometimes too quickly, lure the visitor to constantly pay attention to the screen.
web versions at →
article17 #PART 1
article17# PART 3
-------------
* installation Goethe-institut Sofia, Digital Art festival, Bulgaria
* Developed during the online residency x-temporary
* Featured at
Curating Contemporary
Past-Present Utopian dream for a nu(un)clear future (2018)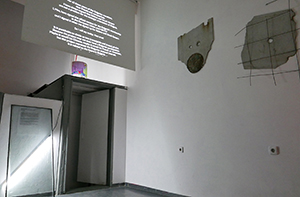 installation /// speakers, nylon, media players, A5 books, video loop 16' 23'', asbestos masks (found objects), prints
In Past-Present: Utopian dream for a nu(un)clear future, her solo exhibit at Æther, Michaela Lakova is showing a body of works related to the past and future of nuclear energy. Michaela's works artistically investigate issues of historical relevance in Chernobyl where the remnants of nuclear energetics, human activity and memories of the biggest nuclear disaster are still very present and in parallel to the small Danube town of Belene in Bulgaria where the desire for developing nuclear energy still remains strong.

What is the future of the still unrealized Belene Nuclear Power Plant (NPP)?
A promise? Is the second nuclear power plant a means to cheaper nuclear power, providing an export and economic prosperity to the region or is it just another corruption deal? Belene NPP is rather a multi-layered political game which involves foreign interests and influence. Proven to be a non-economic and an environmentally unfriendly project, the nuclear station cost billions of euros worth in construction and equipment – a project frozen in time. Full video at → video
-------------
*
Past-Present: Utopian dream for a nu(un)clear future
, solo show at Æther Sofia
*
Past-Present: Utopian dream for a nu(un)clear future
was supported by Gaudenz B. Ruf Award for new Bulgarian art Switzerland/Bulgaria
* Part of
Ant •I con/cept/ion
,group show at Æther Hague
Memories of Slavutych (2018)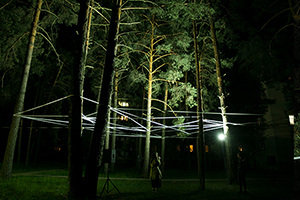 sound installation in public space /// speakers, media players, mixer, amplifier, white ribbon, LED lights
It's an episode still outside our culture. Too traumatic for our culture. And our only answer is silence. We just close our eyes, like little children, and think we can hide. Something from the future is peeking out and it's just too big for our minds.Too huge for us to handle.
– Chernobyl Prayer: A Chronicle of the Future by Svetlana Alexievich

Memories of Slavutych is a spacial sound installation composed of different field recordings which Michaela collected during her residency in Slavutych (April-May). This project is a result of her ongoing research into nuclear power, the Chernobyl accident and the notion of memory. From everyday life soundscapes recorded in Slavutych to Julia's narrative voice during an obscure trip to the Exclusion Zone, all resonate under a white ribbon inviting the passersby to listen. Preview at → video
-------------
* Developed during Uranism residency at the International Festival of Film and Urbanism "86", Slavutych, ua
* Past-Present: Utopian dream for a nu(un)clear future, solo show at Æther Sofia, bg
A manuscript of erasure (2017)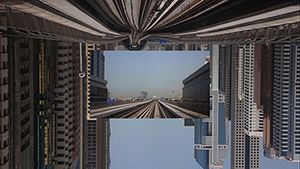 installation, video in a loop, customised screen, speakers, mirror, A3 laser-cut print
"Through a disembodied narration, Lakova reminds us that memory has been historically capitalised, as people, archives and artefacts have been systematically obliterated. Thus, the gesture of displaying what has been remembered, or forgotten, suggests that there is a deeper link between residual materials and how individuals act and perceive themselves. What is the significance of remembering and forgetting in the era of instant deletion, digital secrecy and fictional transparency?
— Text by Unknown Quantities

A manuscript of erasure is an immersive video which explores themes of memory, absence and presence; what's to be forgotten and/or remembered oscillating between city landscapes and a desert located in the Middle East. The video depicts a larger question of how history operates and its complex apparatus of being erased and then reinvented again. Preview at → video
-------------
* Video installation, Plan for action, the fridge, Sofia, bg
* Artist talk & screening, Wolfart Project Space, Rotterdam, nl
* Featured at
Unknown Quantities 5
publication by Central Saint Martins College of Art and Design, London, uk
Allow Me To Forget (2016-оngoing)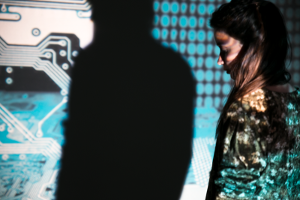 website / questionnaire
Аllow Me Тo Forget is an ongoing research and project development based on the right to be forgotten (RTBF). In May 2014, the European Court of Justice ruled that individuals can request search engines to remove content which is linked to one's name if the information is outdated, inadequate, irrelevant or devoid of purpose and there is no public interest. Allow Me To Forget is a website which depicts larger questions about our digital rights and the online ethics of tech companies as a symbolic attempt to gain agency. The questions presented on the site are a constant subject of change and are based on the polarizing opinions and reflections which I encountered during my research.
-------------
*
Allow Me To Forget
was developed during residency at Intercambiador (ACART), Madrid, es
* Presentation at
Café Chercher
in Willem De Kooning Academy, Rotterdam, nl
The Blue Print (2016)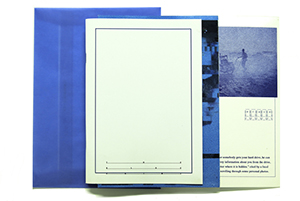 artist publication
The publication The Blue Print is a result of an archive of images, recovered from a collection of hard disks. They explore questions like: What can be digitally excavated from a computer memory? What appears and disappears in the recovery process? The images in the publication The Blue Print derive from a series of images which the audience has decided tosave as part of the interactive installation Delete? No, Wait! Rewind (2014).

"The Blue Print is an artist's book and an introduction to themes of media art by capturing a techno-poetic and aesthetic syntax of unintentional archive. Its context stems from the prevalence of the digital technologies that are provoking us to shed data like we shed our skin, asking questions around how we store, delete, retrieve and share our personal histories as an ever-present community."
— Liz Allan (Co-Editor)
-------------
*
The Blue Print
is supported by
Gaudenz B. Ruf
award for new Bulgarian art Switzerland / Bulgaria
* Presented at Zine Camp Rotterdam, Rotterdam, nl
* Artist talk at Conversation Piece, Cosmos, Sofia, bg
* D Days (Open Design), group show, Zagreb, hr
Estimated Time to Recovery (2015)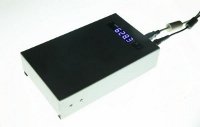 inatallation /// Raspberry pi, SATA/IDE enclosure box, hard drive, steal box, timer, screen
Estimated Time To Recovery is completely automatized system, which recovers files from hard drives without the consent or the knowledge of the previous owners, who presume their content has been forever deleted. This metal box contains a mini computer which recovers and deletes data real time. The displayed numbers on the box show the estimated time to recovery until the process is completed. When the procedure is finished the machine starts the reversed process of erasing the recovered data. This feedback loop attempts to display processes which often remain hidden and run on the background of our machines.

-------------
*
Estimated Time To Recovery
is supported by
CBK (Centre for Visual Arts Rotterdam)
* What remains – Strategies of saving and deleting, group show
esc medien kunst labor
part of
Steirischerherbst
, Graz, at
JODI@STDLJK (2015)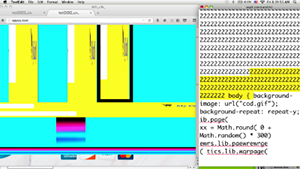 video, duration: 1'16''
Together with six other artists and researchers I was invited to take part in the project "This folder Contains", a diverse set of documentations produced on the occasion of JODI's performance entitled "This Page Contains..." on October 1, 2015 at Stedelijk Museum. For this purpose I created JODI@STDLJK The Titles – an immersive video teaser combining more than 1475 still images of what might be my subjective interpretation of JODI's performance. → video
-------------
* This project was initiated by Annet Dekker in association with
LIMA
as part of
Capturing a Moment:
Where net art and performance meet
and it was supported by Stedelijk Museum.
* Prototype, pop-up exhibition at Societe Generale Bank, Sofia, Bulgaria
Delete?No, Wait!Rewind(2014)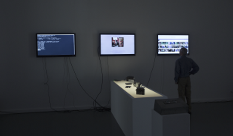 interactive installation /// custom software and hardware, hard drives, screens, steel controller, light table
Delete? No, Wait! Rewind is an interactive installation which recovers images from hard drives without the consent or the knowledge of the previous owners, who presume their content has been deleted forever. The audience is prompted to choose whether to delete a recovered file or save it by publishing it online.
Whether our storage devices are locally present (hard drives) or dislocated (the cloud), can we ever be certain our data has been deleted permanently? In an ongoing conversation about the impossibility of erasing digital traces, what role do we play? Are we plunderers, interpreters or mediators? → video
-------------
*
free_art_-_source
, group show, Galerija Galženica, Zagreb, hr
*
Art Meets Radical Openness festival (AMRO)
, Kunstraum gallery, Linz, at
*
What remains – Strategies of saving and deleting
, group show,
esc (medien kunst labor)
, Graz, at
* PIKSEL Festival
, Lydgallerit, Bergen, no
* New Horizon Festival
, group show, Het Onderwijscentrum Erasmus MC, Rotterdam, nl
*
Unlinked (Dislocations, Disappearances & Deprecations)
, graduation show of Piet Zwart Institute, MMDC, TENT gallery, Rotterdam, nl
Bibliotecha (2013 – ongoing)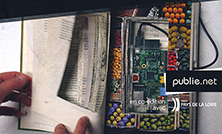 offline digital library /// Raspberry Pi, Recoil, Calibre, cut-out book, login instructions

---------------------------------------------------------
| collaborators:
 Roelof Roscam Abbing, André Castro
 Yoana Buzova
 Lucia Dossin
 Michaela Lakova 
---------------------------------------------------------

Bibliotechaa framework to facilitate the local distribution of digital publications within a small community. It relies on a microcomputer running open-source software to serve books over a local wifi hotspot. Using the browser to connect to the library one can retrieve or donate texts. Bibliotecha proposes an alternative model of distribution of digital texts that allows specific communities to form and share their own collections. Over the past several years the Bibliotecha project has been shown in various public presentations and its interface has been used as a source for workshops. → http://bibliotecha.info/
-------------
* Presented at
The Autonomous Fabric Symposium
, V2_ – Institute for Unstable Media, Rotterdam, nl
* Presented at
Radical Networks
, conference, NYU Polytechnic School of Engineering, New York, us
*
Workspace for the New World
, Bureau Europa, group show, Het Niuewe Instituut, Maastricht, nl
* Workshop at
Art Meets Radical Openness festival (AMRO)
, Linz, at
* Presented at
Are you being served? VJ14
, Constant – Association for Art and Media, Brussels, be
* Developed during
Free book for every soul
, workshop Impakt festival, Utrecht, nl
Generative koplet Revisited (2013)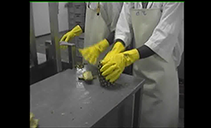 video loops, duraion: 4'35''
Generative koplet (Revisited) is a video that shows the behind-the-scenes of the data recovery process. Lakova positioned herself at the center, placing a hard disk into a SATA hard drive case and then she ran on the recovery software documenting every step of hers. The soundtrack of the video is the slightly distorted sound from a powered up and spinning hard disk.

* Traces part of MuseumNacht'14, SaraTimTrust, Rotterdam, nl
* USB-Shuffle show, Institut für Alles Mögliche, Transmediale, Berlin, de



2013 — 2010
VGA_ha(c)k (2013)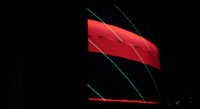 CRT TV, custom VGA adapter, Arduino, MAX/MSP
VGA_ha(c)kis a customized VGA adapter / controller which scans the digital signal of an old CRT TV. The abstract lines move fast systematically back and forth across the screen, drawing line by line, "flickering" the picture over and over again almost like invisible electronic paintbrush. The adapter takes as input digital signal (RGB) and via arduino converts the signal into hi frequency lines displayed on CRT TV. A Max/MSP patch is used to communicate with the Arduino through the Serial port, syncing the rgb signal to the frequencies of the played audio file. → video
-------------
*
Glitch Moment/ums
– an online exhibition curated by Rosa Menkman & Furtherfield, Furtherfield Gallery, London, uk
Creativity Profiling Test Cq7 (2013)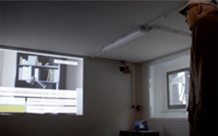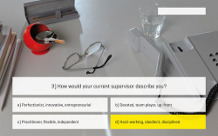 interactive installation /// customized software, Processing, Kinect, print, projector

-------------------------------------------------
| in collaboration with Nicole Hametner 	 
-------------------------------------------------
   				
Cq7 Creativity Profiling Test is an interactive installation, which allows users to test their creativity through a series of ubiquitous questions and by standing in different zones on the floor. Then the user is given a printed badge with final score. The content of the questions evolves from the most common job interview questions to more discomfort ones, concerning supervision, deadline, pressure, work-life balance and privacy. The final rating is not based on the actual answers instead it is randomly generated. However most users see the test as a serious assessment of their own creativity. → docs
-------------
*
Startup CAMP
- a group show & presentation, WORM, Rotterdam, nl
Untitled (2013)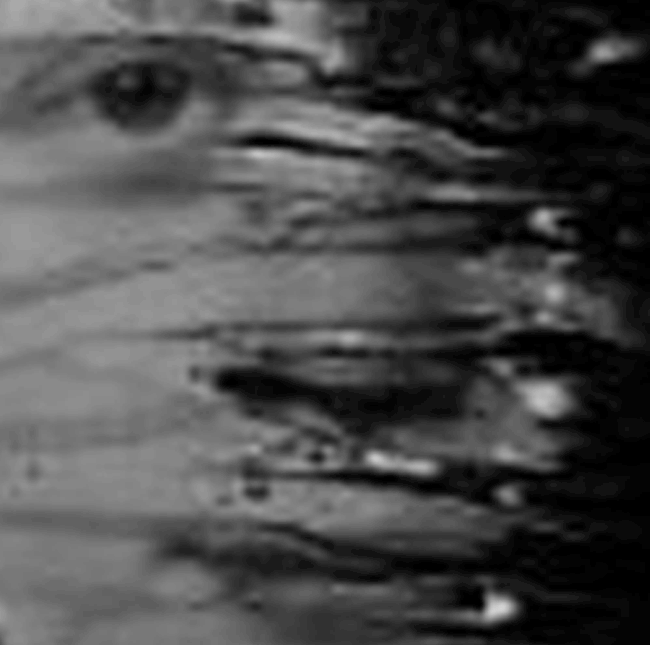 gifs
-------------
* gif Archive - an online exhibition & discussion →
eXAF foundation
the fridge (Sofia) & Kino Kosmos (Plovdiv), bg
Urban_Planting (2012)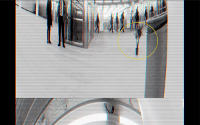 intervention in public space /// plant, go pro camera
Urban planting is an attempt to explore and interact with the rhythm of the city of Rotterdam. It is my first personal observation of how and to what extent I can provoke a reaction from a small action: a type of social intervention in a public space. I placed a plant – a common interior feature but in this case, out of its context – at the Rotterdam metro station. I intentionally positioned it in the middle of the sidewalk, in the way of the passersby where it frequently became an object of illumination by numerous fluorescent lights and CCTV cameras.
I found myself and my non-descript form of intervention in the spotlight, overexposed, monitored and investigated. Thereby neither the absurdity of the object by itself, nor the audience's bare reaction were central; instead it was the authority's, in particular the security's response that became the main event of the action.
-------------
* Open day / group show, screening,
ZK/U – Center for Art and Urbanistics
, Berlin, de
WAVes (2012)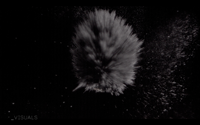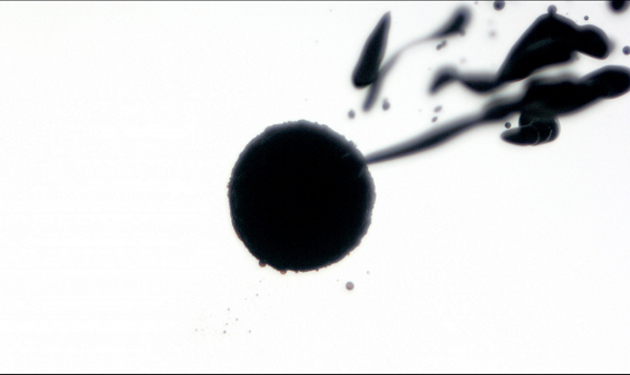 digital videos: 2'27'' & 1''46''

---------------------------------------------------------------------------
| in collaboration with Qvor Milanov and Yoana Buzova,	            
  Giovanny Conte - violin and Dmitri Yagodin - drums & percussions          
---------------------------------------------------------------------------
			
WAVes expore a common physical reactions of magnetizing a ferro fluid and iron sand - both highly conductive materials. We recorded slow motion videos of the physical processes that occured and then asked the musicians Giovanny Conte and Dmitri Yagodin to play and experiment on the source material, while watching it. The visuals play a role of a fictional conductor, providing a ground for sound improvisations. → videos
Web banners (2010)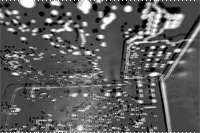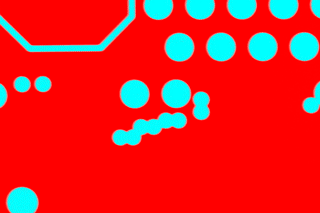 gifs
Web banners are the junk of the web; The Unwanted; Often classified as everything that is not asked by the visitor. This visual research focuses on creating visual patterns, which aim to personalize your own web banner. I used basic structure of Printed Circuit Board (PCB), which is primary used to connect electronic componets and consists of unique visual code.
-------------
*gif Archive - an online exhibition & discussion →
eXAF foundation
the fridge (Sofia) & Kino Kosmos (Plovdiv), bg